JOY by M&V valmistaa kauniita ja kestäviä lasten luomupuuvilla vaatteita. Vaatteita, joilla on merkitystä!
Turun Yliopistollisen Keskussairaalan lasten syöpäosaston ihanat pikku taiteilijat ovat piirtäneet vaatteissamme olevat kuvat.
Lahjoitamme 40% voitostamme AAMU Suomen Lasten Syöpäsäätiölle, lasten syövän hoidon tutkimukseen ja kehitykseen.
Organic cotton and at least 20% recycled material

All our clothes are made of organic cotton, which is wonderfully soft on a child's skin.

Morning Finnish Children's Cancer Foundation

Help us donate to research and development of children's cancer treatment to the Aamu Foundation.
Our clothes are made in a factory with GOTS and GRS certificates. This is how we ensure that our clothes do not contain substances harmful to humans or nature.

Did you know, on the back of our clothes you can see who drew the picture on the clothes.
Every year in Finland around 150 children under the age of 15 fall ill with cancer, and almost one in five affected children still dies from cancer each year.

We donate 40% of our profit to the Aamu Suomen Children's Cancer Foundation; for research and development of cancer treatment.
THE MOST BEAUTIFUL THING YOU CAN WEAR IS JOY

Uusi uniikki lastenvaate brändi. Lapsien suunnittelema mallisto. Ole kanssamme osa jotakin suurempaa! Osta nyt ja olet mukanamme tekemässä hyvää!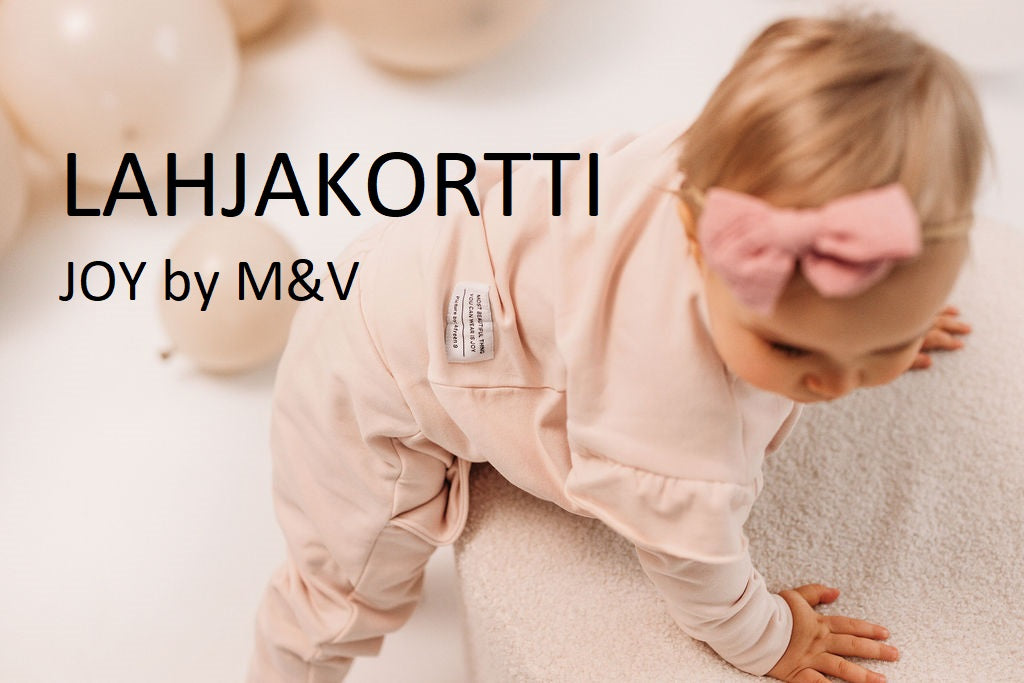 Share the JOY
With our gift card, you bring joy and at the same time support research and development of children's cancer treatment.
Gift certificate
SHARE THE JOY
Everything started with joy! The most important thing for us is to create joy through our clothes, both for the designers of our images and for the wearer of the clothes. Let's do good together, something meaningful and important.
These thoughts gave birth to JOY by M & V